Rely on the Building Science Experts!
Nobody understands the science of building better than . If you want to create a thermally efficient and air tight space, it's not enough just to insulate. You must choose the right insulation and air sealing system for the application, and be sure it's properly installed.
Constant Owner interaction means no project manager or multiple people trying to make decisions.
The highest quality products and with many small details that often go unnoticed by other contractors, let's take your insulation project to the next level.
Quality Control. The owner is hands on throughout the project, if any problems or issues arise they can be dealt with immediately.
Nonstop communication - The key to the success of your project is good communication. And, a big part of communication is listening. From the beginning of a project to its end, our company places a high priority on listening - to you, your needs and wishes.
Solid Science - Our Building Science experts understand the principles of heat, air and moisture flow, and how the building envelope interacts with a building's mechanical systems as well as its occupants.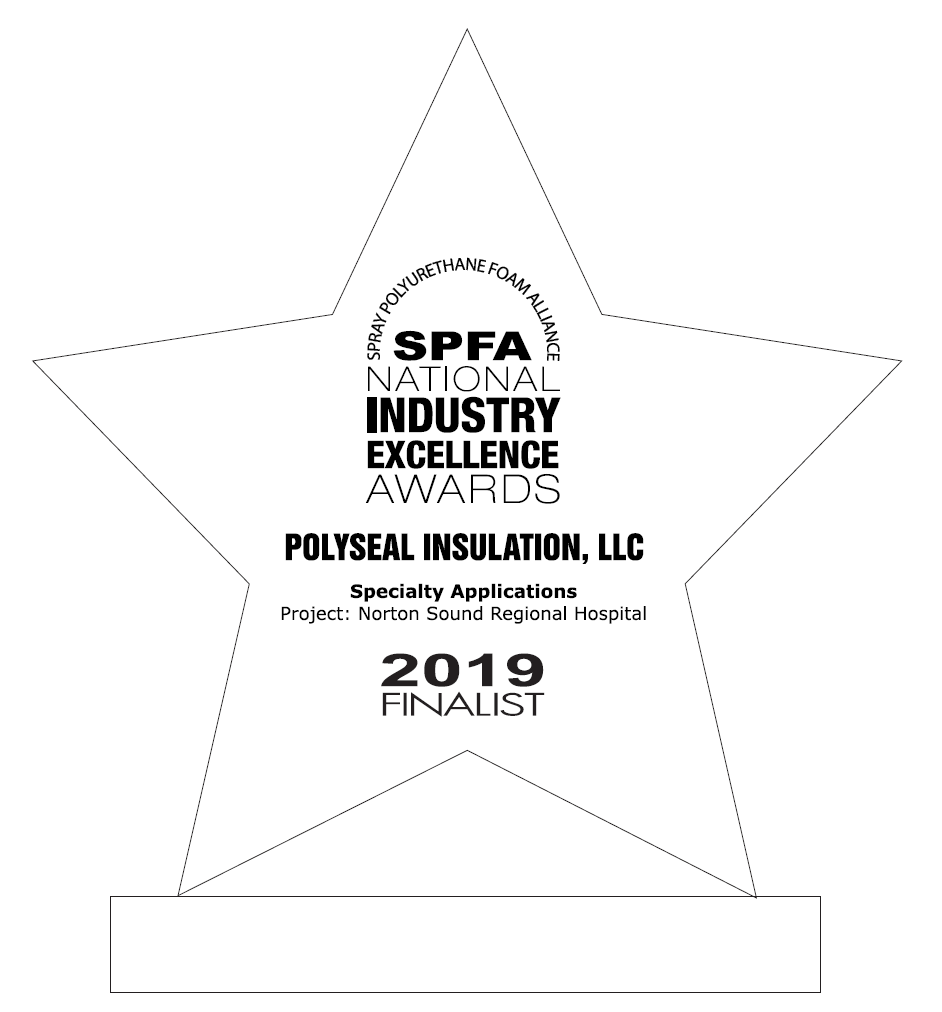 2019 SPFA National Industry Excellence Award
Norton Sound Regional Hospital
DO YOU HAVE EARTHQUAKE DAMAGE RESULTING IN SUNKEN CONCRETE OR SINKING FOUNDATION?
No need to replace! We have a repair solution for you! Our innovative and proven technology is a long-lasting, quick, and cost-effective option for both residential and commercial applications.
HOW IT WORKS
SLABS

1. Small non-invasive holes are drilled into strategic places.
2. Polyurethane foam is injected under the concrete slab.
3. The geo-foam sets, the holes are capped and it is immediately ready for use.

FOUNDATIONS

1. Hydraulic jacks are placed under the exposed foundation wall.
2. Your home is lifted and restored to pre-quake conditions.
3. Geo-foam is injected to structurally bed the foundation footprint for long term stability.
Spray foam takes building envelope performance to the extreme three ways:
First, its high R-Value per inch provides outstanding thermal performance, so it minimizes hot and cold spots that can affect the efficiency and comfort of a building.
Second, its rigidity provides added structural integrity to your walls.
Third, it acts as a secondary moisture vapor barrier to help reduce the risk of moisture intrusion in the wall cavity.
Installing Sprayed Polyurethane Foam (SPF) roofing system on a new building, or retrofitting your older roof with an SPF roof can save you money in a lot of different ways. Most of the causes of additional roofing expenses don't exist when you have a foam roof system.
Foam Roofs have no seams to split or pull apart and allow water to enter. Foam is ideal for saw tooth or other irregular roof shapes that are difficult or impractical for old fashioned low-tech roofing materials.
Sprayed Polyurethane Foam is also the best insulator on the market. Very little maintenance or repair is ever needed, and with proper care, it is the last roof you will ever need to buy.
Americans spend about $40 billion annually to air condition buildings - sixth of all electricity generated in this country.
ENERGY STAR® qualified roof products reflect more of the sun's rays. This can lower roof surface temperature by up to 100F, decreasing the amount of heat transferred into a building.
ENERGY STAR® qualified roof products can help reduce the amount of air conditioning needed in buildings, and can reduce peak cooling demand by 10-15 percent.
Although there are inherent benefits in the use of reflective roofing, before selecting a roofing product based on expected energy savings consumers should explore the expected calculated results that can be found on the Department of Energy's 'Roof Savings Calculator' website at roofcalc.com (opens in new tab).
"Everything is designed, but some things are designed well."